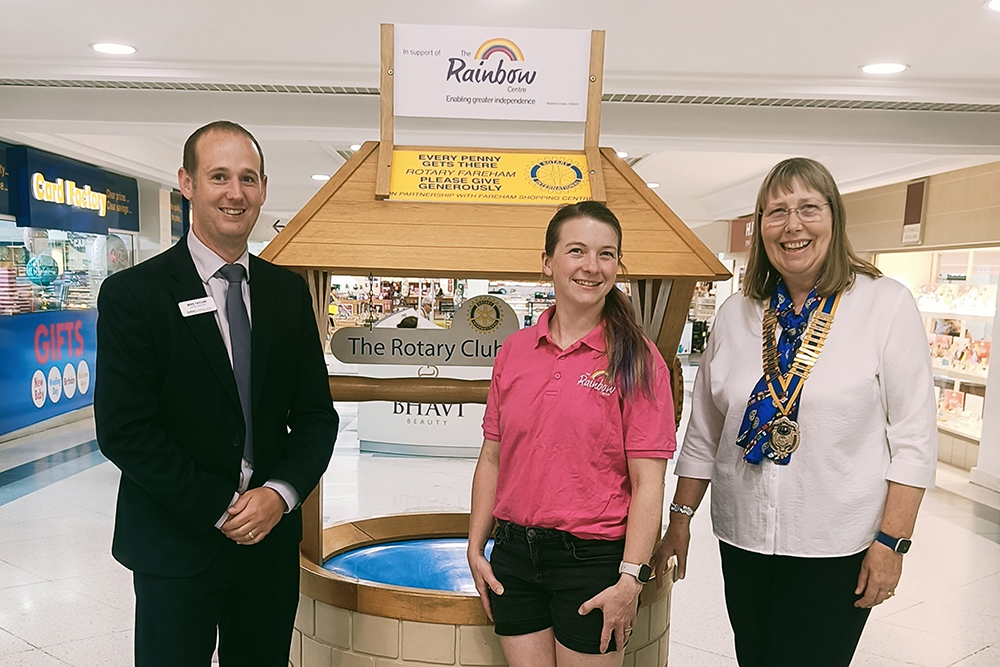 Shopping Centre helps Fareham Rotary Club fund a roundabout!
They say when you wish upon a star your dreams come true … and so they will, thanks to Fareham Shopping Centre supporting the Rotary Club of Fareham's chosen local charity – The Rainbow Centre –that supports local children affected by neurological conditions. They teach the youngsters how to live their lives to their full potential.
The Rotary Club's Wishing Well is centrally situated in the shopping mall and encourages those passing by to put in loose change to help our chosen charity. The shopping centre has been very generous in the past and now they will not only support The Rainbow Centre but will make it their local charity too through their events and promotions.
Mike Taylor, Centre Manager, said "We are pleased to continue our partnership with the Rotary Club of Fareham and support this year's chosen charity The Rainbow Centre. The new signage went up at the beginning of July on the Rotary Wishing Well and we hope it collects lots of money for them".
Raising sufficient for a wheelchair-friendly Rotary Rainbow Roundabout is the aim of Pam Marsden, President of the Rotary Club of Fareham, who said "The current playground at the Rainbow Centre has seen better days and I am hopeful that we will at least provide a roundabout that is accessible by children of all abilities along with other equipment too."
Many events are planned for the 2022-2023 Rotary year and the first will be a sponsored Rainbow Swim in the Solent at 5pm from The Shack on the beachfront at Lee along to the Club's Wheel House at Hill Head on Sunday 24th July. We will keep you in touch with the swim and all our events during the year.